---
Jeep FAQ
---
How-To Articles
---
Quick Reference
---
Product Reviews
---
My Buildup
---
Random
---
Home
---
---
New Wire Marine - Custom Switch Panel
---

For many years I've had a couple switch boxes I've built in my Jeep: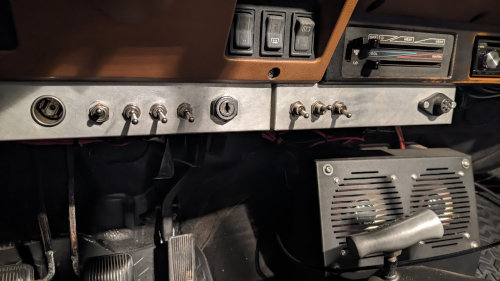 I started searching a way to get a custom switch panel, and New Wire Marine popped up in several different forums during my search with many people saying good things. I sent an email with a rough drawing with what I was looking for, and received an email and a phone call back promptly. They were on top of things from start to finish too. You can call, text, or email, which was great. They send out full scale drawings, which can be be revised if needed (before final approval).

I also thought it was a nice touch that once final approval was given they sent out another email with details, and resources about wiring. This also included video links, their web page resources, and even their phone number.

The packaging on the panel was excellent. It definitely wasn't going to get damaged in shipping. My panel arrived exactly as drawn, dimensions as given: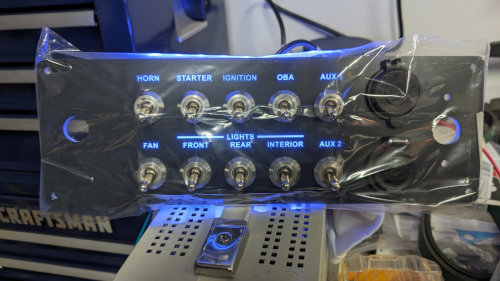 I did have to disassemble the panel for installation, so I'll bring up quickly a "homemade tool" for those switch nuts. A socket and a piece of heater hose works pretty good to tighten those fancy nuts on the switches:




So looking at the pros and cons:

Pros:
Customer experience is top notch
Product fit and finish is excellent.
Turn around time is good for custom product, and they are up front about turn around time
It's made exactly how I wanted, including choosing finish, switches, lighting, etc


Cons:
Really the only down side is this does cost more than say a painless switch panel.


So overall, the only downside is it does cost a bit more. However, it's custom and that's to be expected. Also the painless panel I was looking at didn't come with the USB chargers, 12V port, holes for my other items, correct labeling, back lighting, etc. So in this case I felt it was actually not that much of a premium to go this route. Not to mention I think the end result looks nicer in my opinion. I will definitely say after my experience with New Wire Marine, I would easily recommend them.