---
Jeep FAQ
---
How-To Articles
---
Quick Reference
---
Product Reviews
---
My Buildup
---
Random
---
Home
---
---
Hand Throttle:
---
A hand throttle is one of the cheapest, easiest, mods you can do to your Jeep. You just don't realize how much you need one until you have one. Many times off-road you may find yourself in a situation where rolling backwards while letting out the clutch is not an option, with a hand throttle you can operate the clutch, brake pedal, and gas pedal all at the same time. A hand throttle also eliminate those weird throttle blips as you are bouncing around the Jeep, a nice smooth constant RPM is much easier on the drivetrain. All you need to make a hand throttle is a bicycle brake handle, brake cable, and some electrical connectors.

My bike cable is attached just using a ring terminal, the butt connector is added just to ensure the cable doesn't come loose.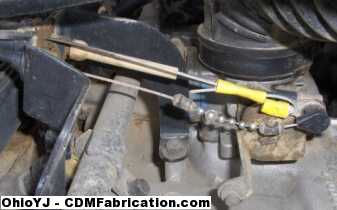 I meant to change this, but its been this way for quite a while and it seems to work, so I haven't touched it. Since I have cruise, I just drilled a hole for the cable to pass through, and the outer shielding of the bicycle cable just rest against the bracket.





A better solution maybe to actually use a cable adjuster, some bike cables come with these: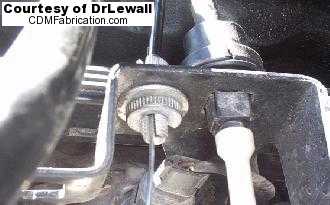 I found a bicycle brake handle that actually had an emergency brake built in. The button on the side controls it. You pull the lever and push the button in, and it locks the throttle at 2500, until you touch the handle again.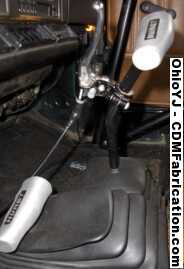 Related Writeups: | Hand Throttle Install



Back